Swarovski reveals luminous  new eyewear collection
Swarovski has partnered with eyewear industry leader EssilorLuxottica to unveil a full new collection of premium sunglasses and opticals.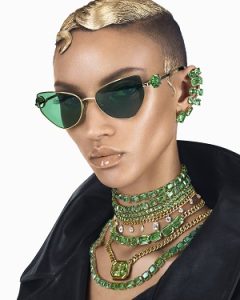 Inspired by some of Swarovski's most iconic jewelry families and designed under the creative direction of Giovanna Engelbert, the new collection has been crafted with the brand's signature savoir-faire and mastery of light, cut and color. From statement shapes and brilliantly faceted crystals to sleek metals and signature touches, each piece captures the bold and joyful elegance of Swarovski.
The eyewear range launches with a stunning visual campaign, shot by the critically acclaimed fashion photographer Steven Meisel, which features a striking pair of green sunglasses inspired by the Lucent jewelry family, styled with matching green Millenia jewelry. It's a vibrant introduction to the collection's head-turning shapes embellished with bold colored crystals.
"We are delighted to offer customers around the globe a new, re imagined eyewear assortment that celebrates self-expression and brings pure joy to the art of accessorizing," said Giovanna Engelbert, Swarovski's Global Creative Director. "Applying creative vision and fresh details to EssilorLuxottica's expertise in quality craftsmanship is a dream partnership that allows customers to elevate any wardrobe look with chic eyewear that harmoniously pairs with Swarovski's timeless jewelry pieces. We look forward to introducing the Fall collection and continuing to inspire customers' style preferences for seasons to come."
Among the many fashion collections are  
Lucent Inspired
In this glowing collection, Swarovski's mastery of color is dramatically brought to life. Each piece is crafted with an innovative hinge design, where multi-faceted, full-cut crystals exclusive to Swarovski bend apart at the temples. Playful and luminous, these styles are enriched with Swarovski's iconic brand colors and are available in a variety of popular shapes.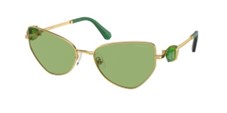 SK 7003 This cat-eye sun style is a show-stopping example of Swarovski's savoir-faire. The multi-faceted, full-cut crystals on the temples are cleverly designed to open as a hinge, adding a touch of elegant modernity to a timeless shape, while the lens colors all coordinate with the Swarovski crystals for a sophisticated palette. The style with fern green lenses is featured in the brand campaign, paired with a suite of striking Millennia pieces in matching hues
SK6002
This cat-eye style stuns with a Lucent hinge design. The illuminating crystals appear in a wide variety of colors that contrast or match the acetate frames.
SK6001
This square sun-style will bring a glamorous statement edge to any outfit, thanks to its oversized shape. Glowing crystals double-up as a hinge on the temples for undeniable flair.
SK7010
This narrow, oval shape has lenses with a subtle wraparound effect. The crystals on the hinges offer a bold and eye-catching contrast to the sleek metal frame, while the oval-shaped front is highlighted by slender volumes.
SK6004
The classic square shape of this style offers endless styling opportunities and easy-to-wear appeal. As a Swarovski design, this silhouette would not be complete without its subtle, iconic baguette crystals, found on the temples as part of the hinge.
SK2004
This easy-to-wear and timeless shape, featured in the brand campaign, is enlivened by a dose of Swarovski DNA. The crystals on the temples double up as an innovative hinge design, recalling the closures of Swarovski's Lucent jewelry family.
SK1001
Swarovski's passion for expert crystal cutting is on full display in this optical style. The minimalistic round metal silhouette offers a sophisticated contrast to the bold Lucent-inspired crystals on the hinges. Acetate temple tips offer added comfort.
Mesmera Inspired
This selection highlights Swarovski's unmatched variety of innovative cuts, clusters, and statement extravagance. The light-catching crystals add a dose of wonder, transforming the metal and acetate models into something that is unquestionably chic and hypnotic.

SK7011
When it comes to crystals, this Swarovski eyewear doesn't hold back. The spectacular sun style showcases its unique savoir-faire through eye-catching metal frames and a decorative clip-on frame that is truly mesmerizing.
SK7009
This Swarovski sun style steals the spotlight in the boldest way possible. Its array of differently shaped crystals along the top of the lenses is paired with another luminous crystal on the temple tips, while the reflective mirror lenses are available in bronze or silver.
SK6011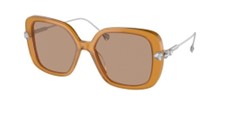 With its oversized acetate shape and mix of eight dazzling stone cuts, this audacious design was born to stand out. Contrasting sleek metal temples and a playful color palette add even more impact to the glamorous effect.
SK2012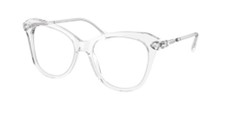 Form and function are fused with the glamour of crystals in this optical acetate style. Boasting an elegant butterfly profile, these frames pair perfectly with Swarovski's precious stones on the front and temples.
Other Collections are
Dextera Inspired
Celebrating the splendor of crystals by integrating them directly into the frames, this selection takes its influence from Swarovski's iconic Dextera jewelry. Thanks to the scattered placement of crystals, an impactful sense of movement is conveyed, allowing modern style to merge with classic and organic shapes. Note how each stone sits within its own metallic setting, creating a genuine look of luxury and gilded savoir-faire.
Like the
SK6007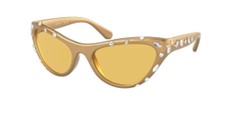 This cat-eye sun model features a modern, wraparound shape adorned with 30 Swarovski crystals in varying cuts. Scattered across the front and temples, the crystals are encased in metal, a technique inspired by the Dextera jewelry family.
Pavé Styles
The pavé technique is a quintessential feature across Swarovski's jewelry families. That dazzling theme has now been transferred into an eyewear range that is both evocative and playful. These intricate designs exude modern glamor, with daring shapes and futuristic flair that will certainly embolden any look.
SK6006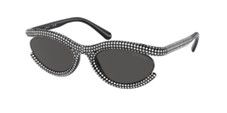 Taking crystallized eyewear to the max, Swarovski presents this daring semi-rimless oval design, defined by confident, rounded volumes and over 600 hand-applied pavé crystals. A statement look that will instantly uplift any outfit with fearless and glamorous style.
Orbita Inspired
In an exploration of color, Swarovski presents these unexpected eyewear designs that mix crystallized brilliance and beautiful palettes. Small crystals appear on all models, artfully arranged around the outer rims with colors that match the frames.
SK6013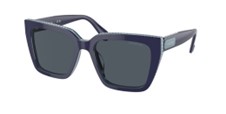 Turning heads for all the right reasons, this oversized sun shape exudes Swarovski style. The tri-layered acetate frames reveal a middle color matching a plaque with the Swarovski logo on the temples, while 102 Swarovski crystals along the top provide limitless glamour.
Swarovski's new eyewear collection will be available globally on Swarovski.com and in select stores from September, 2023. Opchat News will be attending the launch in London shortly 
ABOUT SWAROVSKI
Masters of Light Since 1895
Swarovski creates beautiful products of impeccable quality and craftsmanship that bring joy and celebrate individuality.
Founded in 1895 in Austria, the company designs, manufactures and sells the world's finest crystals,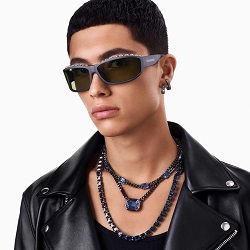 Created Diamonds and zirconia, jewelry, and accessories, as well as home décor. Swarovski Crystal Business has a global reach with approximately 2,300 stores and 6,600 points of sale in over 150 countries and employs 16,600 people.
Together with its sister companies Swarovski Optik (optical devices) and Tyrolit (abrasives), Swarovski Crystal Business forms the Swarovski Group.
A responsible relationship with people and the planet is part of Swarovski's heritage. Today this legacy is rooted in sustainability measures across the value chain, with an emphasis on circular innovation, championing diversity, inclusion, and self-expression, and in the philanthropic work of the Swarovski Foundation, which supports charitable organizations bringing positive environmental and social impact.