Fittingbox launches reliable and patented pupillary distance measurement online tool
Unblocking online buying obstacles
Fittingbox, the leader in eyewear virtual fitting and glasses digitization, extends its range of breakthrough solutions with a brand-new pupillary distance (PD) measurement online tool. It features a state-of-the-art card protocol for precise and hassle-free optical measures while shopping online.
In response to the ever-growing demand for seamless and accessible online solutions within the eyewear industry, Fittingbox has developed a mobile-friendly and easy-to-use solution to complete the user buying journey when shopping for frames.
Back in 2017, Fittingbox already made the process easier when they launched a desktop-based solution that featured the input of an optician to allow distanced PD measurements.
Since then, ecommerce has boomed but a major roadblock remains: shoppers often don't know their pupillary distance, which prevents them from finalizing their purchase.
Online PD Measurement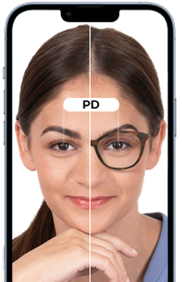 To ensure a seamless user experience, this solution is mobile-first, without any app to download, and can be embedded on any eyewear website. A user-friendly interface with step-by-step instructions and clear visuals makes the measurement process intuitive and straightforward.
Benjamin HAKOUN, CEO of Fittingbox, expressed his enthusiasm about the launch, stating, "As a pioneer in the eyewear industry, Fittingbox strives to push the boundaries of innovation. Our PD Measurement online tool is a testament to our dedication to enhancing customers' eyewear experiences. Hand in hand with our ultra-realistic virtual try-on, we believe this tool will make it easier for glasses wearers to find the right frames and for eyecare professionals to ensure well-fitted lenses."