Aston Villa and ESSILOR tackle poor vision this WORLD SIGHT DAY
This World Sight Day (12 October) marks a significant milestone for the Villa Vision eye health initiative. Over 10,500 school children have now been reached as part of the mission to break down barriers to good vision, with lenses provided by Essilor.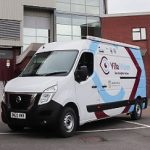 The initiative is part of the Villa Vision programme, run by the Aston Villa Foundation, the Premier League football club's official charity, in collaboration with Essilor and Aston University. It helps raise awareness around the importance of eye health for both children and adults within the local communities of Birmingham.
Since launching in September 2020, Villa Vision has delivered more than 10,500 individual interventions through a combination of workshops, vision screenings and eye tests during 60 primary school visits.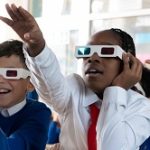 More than 750 children were flagged for further investigation after an initial vision screening process and 240 received a full eye examination in the Villa Vision van, which is kitted out with optical testing equipment provided by Essilor.
This resulted in 320 complete pairs of glasses with the lenses donated by Essilor being dispensed to children with half of schools (50%) reporting they noticed improved reading ability and mathematical capability. Almost two thirds (63%) said children felt more confident with corrected vision.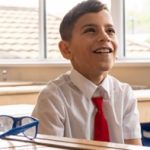 Fredrik Jönsson, head of EssilorLuxottica Wholesale UK and Ireland, said: "We're so delighted to be supporting such a worthwhile initiative and to be providing corrective lenses to these children.
"It's great to hear such positive feedback from school children about the impact corrected vision is having in the classroom, on their academic abilities, and on their overall general wellbeing.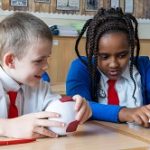 "The initiative is also a natural fit for EssilorLuxottica – aligned with the initiatives of our OneSight EssilorLuxottica Foundation, which aims to help eliminate uncorrected poor vision in a generation by raising awareness on the importance of good vision, creating sustainable access to vision care, and to ultimately help us strive towards our overall mission to help people "See more and be more".
About the Aston Villa Foundation:
The Aston Villa Foundation is a registered charity (number 1152848) that delivers the community and social responsibility work of Aston Villa Football Club.
Working alongside key local and national stakeholders, the Foundation delivers projects, initiatives and provides opportunities to achieve its mission of 'Working Together to Enrich Lives'.
The Foundation and its partners work with people from a variety of backgrounds in Birmingham as well as supporting the wider 'Aston Villa family' through several departments including schools, football in the community, disability, health and wellbeing, education, youth and community and community relations.