OPTEGRA celebrates 15th anniversary  and announces expansion plans 
Specialist eye hospital Optegra marks its 15th anniversary this month, having opened its first UK hospital in Guildford in 2008.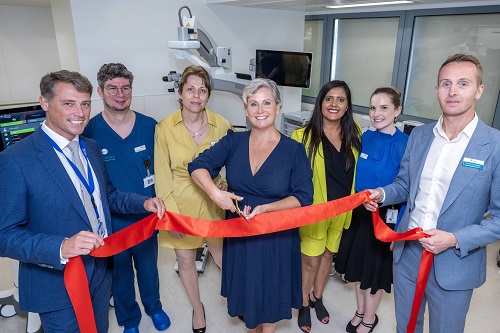 Optegra Eye Hospital Surrey (www.optegra.com) is also launching its second operating theatre, as the business has invested in further technology to meet demand – particularly for NHS cataract patients in the region, as it works closely with the local Integrated Care Board (ICB) to help relieve the waiting lists for this essential treatment.
With over a million eyes treated across the hospital group, and now running 11 hospitals and clinics throughout the UK, the business is going from strength-to-strength.  The Surrey hospital alone has carried out over 50,000 procedures since launch.
And its excellent clinical outcomes include 94% of cataract surgery patients achieving 6/12 (driving standard) vision; and 93% of patients stating they would recommend Optegra treatment to family and friends.
Guildford MP, Angela Richardson, attended Optegra's Surrey hospital to officially open the new second theatre. She said: "It was a pleasure to meet the team at Optegra Eye Hospital Surrey on the occasion of their 15th anniversary.  I was interested to hear about all the support they provide both NHS and private patients in the region, and particularly the high volumes that they are able to treat, particularly now they are launching the new second theatre.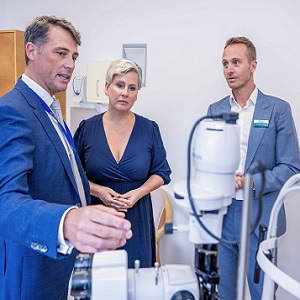 "This is such good news for the people of Guildford and surrounding areas, as they can access this important surgery more quickly, with clinicians providing excellent outcomes.  And it is also good news for the Royal Surrey Hospital, as Optegra can support local cataract patients in order to free up their surgeons' time for other ophthalmic conditions."
The company has progressed from treating around 3,000 NHS cataract patients pre-pandemic, to over 35,000 in the past year.  Optegra treats NHS patients with minimal waiting lists – just a two week wait for consultation following referral, and four-six weeks for treatment.
Optegra also provides vision correction surgery – from laser eye surgery, to lens replacement, to implantable contact lenses – as well as options on private cataract surgery and AMD treatments.
On the occasion of the 15-year anniversary, Optegra Chief Executive Officer, Dr Peter Byloos, said: "I am so proud of every member of the Optegra team who, over the years, has made this healthcare service such a success.
"To have grown from one hospital in the UK 15 years ago, to 11 now is a great achievement.
"And in fact I can announce that we have further clinic openings across the country in the next 12 months, starting with York this month, as we work hard to support the NHS.
"Our aim is to ensure timely, safe and efficient treatment for all our patients and so we recruit and train excellent, caring staff. This means we have 91 per cent of cataract patients saying their treatment was comfortable; and 86 per cent saying they could carry out normal activities just a few days after treatment."
And this patient satisfaction can last for many years. One of the first ever patients to be treated at Optegra Eye Hospital Surrey was Gemma Bow.  Treated with laser eye surgery 15 years ago, she is still full of praise.
She said: "I had to wear glasses or contact lenses constantly, but I'm a bit haphazard! And so I would fall asleep in contacts all the time, I would lose my glasses. And driving at night was awful with glare from my glasses. It was just annoying, struggling to see in the distance, I found I just kept glasses on all the time."
Gemma was introduced to Optegra by a friend and was delighted to be one of the first patients. She had laser eye surgery and while her family were a little nervous as the procedure was not as established and well known as it is today, Gemma was eager to be glasses free.
She describes the experience as "life changing" and "liberating".  When asked about the benefits over the years, she was able to cite many examples:
"Even all these years on I am still 100% happy with my treatment.  I really appreciated it when we had our first child, having to get up in the night and not fumbling in the dark for my glasses to go and sort him.  Driving at night is a massive thing, as the glare off glasses was really distracting.
"Just being out in the rain is so much easier now I don't wear glasses.  And the constant going from outside to inside with glasses fogging up – I genuinely have not missed that!"
Optegra Eye Health Care and is a specialist provider of ophthalmic services. Established in 2007, with its first hospital opening in 2008, it has completed over one million eye procedures from its 31 eye hospitals and over 60 locations across the UK, Czech Republic, Poland and Slovakia.
Optegra brings together leading-edge research, medical expertise and state-of-the-art surgical equipment.  It performs more than 140,000 treatments annually, both private and publicly funded. Its top ophthalmic surgeons are renowned for their areas of expertise, offering excellent clinical outcomes and great patient service.