Sponsorship deal to promote good eyecare to football players and fans

The Eye Doctor has become the official sponsor of Huddersfield Town Football Club's First Team training wear for the Sky Bet Championship season 2023/24.
The eyecare brand is a key part of club partner The Body Doctor Ltd's portfolio. Based in Huddersfield, the family-run business was founded in 2012 and aims to devise, develop and supply innovative solutions to promote and optimise eye health.
The new sponsorship sees The Eye Doctor logo emblazoned across the front of the training kit for the playing and technical staff for one year and began at the start of July when manager Neil Warnock's squad returned to the Millers Oils High Performance Complex.
Huddersfield Town's Commercial Director, Ian Birtley, said: "We're delighted that the Eye Doctor brand will appear on the First Team training wear during the coming season as it's always a proud moment to promote a successful local brand to our supporters.
"It's been an absolute pleasure to work with The Body Doctor team for some time now," he added. "They do some incredible work around eye health that makes such a tangible difference to so many people.
"I'm really happy that we've been able to extend our partnership onto the training wear during the 2023/24 campaign."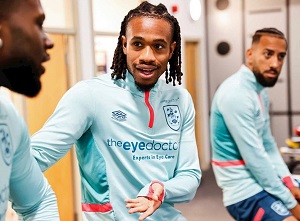 The Body Doctor Ltd's Sales and Marketing Director, Sam Wymer, said: "Being a part of this fantastic club once again is such a proud moment for me and our family. It's exciting to feature our Eye Doctor brand on the training kit to help raise awareness of the importance of looking after our eyes.
"We cannot wait for the new season to start and being a part of this new chapter in Huddersfield Town history."
The training wear is expected to go on sale to fans in late July via shop.htafc.com. The aqua variation, which includes lava pink detailing, will be worn by the players in 2023/24, with the carbon and black version donned by Warnock and his team.