"Comparethemarket" reminds drivers of Vision Needs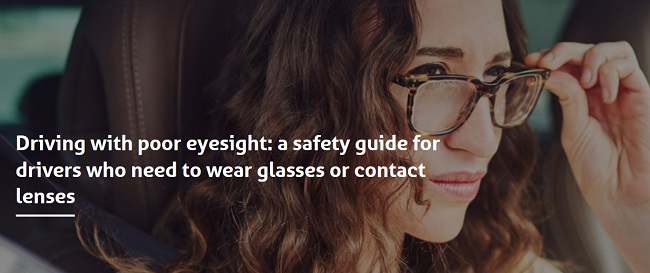 We {Opchat News} have reported many times about the poor state of Vision in many drivers on the road. Indeed even back nearly 2 years ago we reported that "Almost half of Brits unaware they could be fined for driving without prescribed glasses." (Read Here)
Now the Insurance Market Comparison and facilitator Comparethemarket has a full and key message to drivers on their website.
The piece uncovers essential information on the following:
Legal requirements for driving in the UK
The risks of driving with poor eyesight
Causes of poor eyesight
Safety facts for drivers with eyesight problems
In modern life, driving has become an essential part of many of our daily routines. Whether it's to get to an appointment, work or simply do your food shopping, driving is often the best transport option. While there are many safety precautions in place, there are some inevitable risks any driver faces on the roads.
A common challenge is people driving with poor eyesight. Often, getting an eye test is one of those tasks people just simply put off, but having good vision is an essential part of being a safe driver. In this helpful guide from Comparethemarket, they explore the importance of maintaining optimal eyesight and what drivers can do to address any limitations.
Driving with poor eyesight can have serious consequences for the driver, other road users and even pedestrians, so it's crucial to be aware of any vision issues. Noticing a decline in eyesight early on means the driver can seek professional help, and may be able to get some glasses or treatment that could rectify the problem.
Symptoms such as blurred vision, difficulty in reading signs or seeing in the dark can all be significant threats to drivers. As eye conditions can develop over time, it's important to regularly check that your vision is still up to the required standards.
By demonstrating the importance of the relationship between clear vision and road safety, this guide encourages all drivers to safeguard their vision. From booking regular eye tests, maintaining healthy eye habits and addressing vision challenges, drivers can take proactive steps to protect the safety of themselves and all road users.
"Did you know that based on research, poor eyesight causes over 2,900 road casualties every year in the UK, and it's also estimated that there are over 1.8 million active drivers on UK roads who do not meet the minimum eyesight standards? "
In Summary it concludes a very comprehensive piece by saying: 
"Drivers who wear glasses or contacts need to pay special attention to their vision. In particular, they should attend regular eye tests to ensure they are meeting the UK's legal requirements for eyesight. The DVLA has set minimum standards that everyone must meet.
Failure to meet these standards poses a real danger to both yourself and others when on the road, so it is vital that drivers with poor eyesight take responsibility and make conscious steps toward driving safely every time they get behind the wheel. This includes things like; always making sure there is a spare pair of glasses kept in your car and investing in the right eyewear for your individual correction prescription."