Optometrist changes 1,300 lives in three days at Kenya eye camp
An optometrist has changed the lives of 1,300 people in just three days at a Kenya eye camp – from babies to teenagers and older people.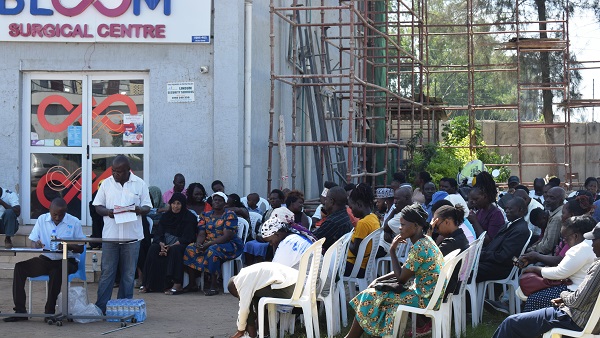 Kejal Shah, an optometrist with Specsavers Home Visits service, organised the eye camp and travelled to Kenya with hundreds of pairs of glasses donated by Home Visits patients.
She was expecting 600 people to attend her clinic in the Kenyan city of Kisumu. But 1,300 people came, queuing from 5am, such was the demand for her expertise, built up over a 20-year career.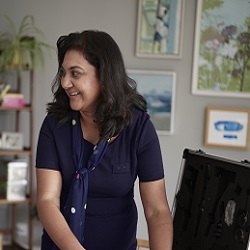 "My career first started after my GCSEs in Kenya when I volunteered at the local eye hospital for about a week. That's when I decided I wanted to specialise in eyes. Twenty years later I felt it was a perfect time to give back to the community as they had given to me my career,' says Kejal, whose day job is seeing patients at home across Surrey.
'I wanted to go back to Kisumu, which is where I first volunteered, and sponsor an eye camp. I collaborated with a local ophthalmologist, Dr Mansour Abukhelewa, so that we could offer cataract surgery as well.'
Prior to the trip Kejal's parents helped with the organisation and raising awareness of the camp, flyers to advertise the clinic were distributed 'far and wide' throughout Kisumu and neighbouring towns and villages.
'I had four hours on the day before the camp to train the volunteers and helpers on triaging patients, reading prescriptions and dispensing spectacles.
'Initially we were expecting about 200 people each day, over the three days of the eye camp. Perfect we can manage that – not a problem I thought,' said Kejal.
The demand exceeded all expectations so Kejal worked long hours and managed with very little sleep throughout her trip.
'We actually saw 1,300 people for an eye test – more than double what we had anticipated. People started queuing three hours before the clinic opened at 8am, just to make sure they could get in.
'It was very busy but it's the best thing I've done in my life. Our work helped change the lives of people unable to afford to feed themselves, let alone pay for eye care or medical bills.'
There were many inspirational moments, she adds.
'There was a 19-month-old baby who had a significant squint and could just not see at all. They had a very high prescription. We had a lot of children's glasses donated by colleagues and friends so it was really good to be able to help that baby to see as well as treat their squint at the hospital.
'There was a lady with broken glasses. She had been struggling with them for three years because she just couldn't afford to get any new glasses. Thanks to the donations, she could have another pair.
'We had loads of kids come in. There was one 15-year-old boy whose teacher thought he was misbehaving because he couldn't focus in class. But he couldn't see anything beyond arms-length. When he put on his new glasses, he was so happy that he could focus on his studies.
'We had people come in from the hospital for deaf people nearby so that they could get eye care. It was an absolute privilege to treat them.'
Kejal explains that patients were screened during the camp, with the ophthalmologist doing a health check before she undertook the refraction and dispensed glasses for people who needed them.
'I dispensed glasses to approximately 900 people. I took around 500 pairs donated by the Specsavers Home Visits community, for which I thank them. However we ran out by the second day so I had to source more pairs locally.
'We treated about 250 minor eye conditions such as allergies and infections. I sponsored all the eye drops for that – so the antihistamines and antibiotics – as well.
'We have about 100 cataract surgeries booked, which have started happening now, plus about 20 corneal transplants booked too.'
Reflecting on her experience, Kejal says that she would encourage other optometrists to undertake such rewarding work and that she is thinking about undertaking another camp in future.