Fearless centenarian Ruby has much more of life to see after undergoing eye surgery
SKILLED consultants have been praised for their sight-saving surgery on an Oxfordshire centenarian.
Ruby Russell, who will be 103 in August, had cataracts removed at Newmedica Oxfordshire eye health clinic and surgical centre.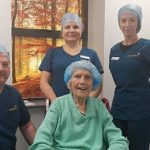 She attended the clinic after tests showed that her cataracts were advanced and that her blurred vision could lead to blindness if not treated.
Ruby was in and out of the Abingdon clinic in less than two hours for her surgery. She had discussed her medical history, had her eyes tested and had photographs taken of the back of the eye in a previous appointment. She will be invited back for a post-operative check in a couple of weeks.
Ruby's daughter, Heather, said: "Thank you everyone at Newmedica Oxfordshire for making mum's visit so calm and worry-free. You are a great team, who obviously work well together and take good care of your patients.
"For us it was such a blessing to be able to have it done in Abingdon. It's so convenient and such a lovely environment."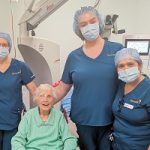 Typically, people develop cataracts due to age-related changes in the eye that occur after the age of 60, but it is unusual for consultants to see patients over the age of 100. Ruby was Newmedica Oxfordshire's first centenarian patient.
Mr Markus Groppe, the consultant ophthalmologist who carried out Ruby's surgery, said: "Ruby was the perfect patient – we all fell a little in love with her. I look forward to seeing her again."
In addition to Mr Groppe, Newmedica Oxfordshire is led by fellow consultant ophthalmologists Moustafa Issa, Mandeep Singh Bindra and Melanie Chak, alongside operational partner Durgesh Patel.
Durgesh said: "Ruby was an absolute star while she was here. She was chatting and laughing with the staff and completely relaxed about having her surgery. The procedure was very quick, carried out under local anaesthetic while Ruby was awake.
"Ruby will be back to see us in a couple of weeks for a post-operative follow-up to make sure everything is in order, and we are all very much looking forward to seeing her."