A Modern Twist on an Iconic Silhouette
ULTRA LIMITED ORTIGIA Sunglasses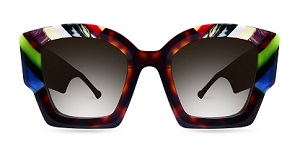 Taking inspiration from the successful limited edition model ISOLA BELLA, the new ORTIGIA sunglasses by ULTRA LIMITED combine the nostalgic feel of the iconic retro silhouette with a modern flair: a colourful striped design at the top and sides of the frame front.
Fused into a classical Black or Havana base, the striking colour patterns are created after an intricate production process lasting 40 days. With more than 200 colours to choose from, 12 layers of rich Mazzucchelli 1849 acetate tones are carefully bonded together one by one using a special layering technique.
The result is a bold, feminine design that exudes confidence and charisma. Handmade by artisans in the Italian region of Belluno, where so many beautiful frames in the history of eyewear have been designed, each model is unique and cannot be replicated.
"…depending on the colour of the shape, the colour combination of each pair of sunglasses will be different. Whoever buys ORTIGIA is really sure to wear a really unique frame, one of a kind, as nobody can have the same colour combinations…"
"….all these years we have had opportunities to create regular 'identical' frames, but we have never done so because we want to maintain this incredible one-of-a-kind individuality for every single style…" Tommaso Poltrone, ULTRA LIMITED