The HYGGE Style of Eyewear from IMMAGINE98
The eyewear for fall?
The warm color of leaves, between homages to Frida Khalo and floral names
Hygge is that sense of well-being while you're on the couch with a warm blanket, a book in your hands and hot herbal tea. Hygge is when it's raining outside and you're in the bathtub with scented candles all around.Hygge is eyewear that sports the colors of autumn and tells you a story of artistic and naturalistic inspirations through epic. Like Immagine98's designs that draw from art, nature and ancient civilizations.
Here are the perfect models for the season
CANALETTO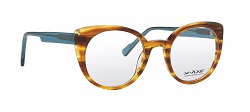 Canaletto rocks a generous butterfly shape that blends bright colors with more neutral tones in an interplay of contrasts between the temples and front and, by proposing striated acetates that – just like the artist they're named for – experiment with color, light and shadow.
KHALO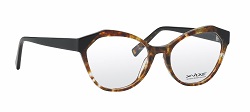 And what can be said of the irreverence of the optical style Khalo that, just like the works of Frida, is an ode to imagination and to magical realism: elongated shape.But the upper front has geometric cuts and color pairings that transform the style into a form of expressive language.
From decorous black and marbled look to the elegance of black paired with marbled brown, the joyful pairing of green and pink, and the eccentric black and checkered black and white.
DIANA
Diana – goddess of the hunt, patroness of forests, mountains and cool clearings – flaunts bold lines. In oval acetate that sports a zig-zag upper front with metal insert, polygonal temples and fanciful color options: black front and optical black&white temples or vice versa; tortoise in shades of Havana and matching temples in shades of green with black temples.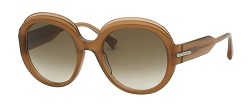 Gelsomino sunwear – like the perennial evergreen jasmine with its heavily scented white flowers – has an enveloping rounded shape and comes in three sophisticated, timeless colors: black, tortoiseshell and Havana.