Most popular optician-only mask in the USA is launched in the UK
Positive Impact has launched the Bruder Moist Heat Compress which is optician-only and is the number one practitioner-recommended compress in the USA.
The Bruder range of hot and cold compresses are indicated for dry eye, meibomian gland dysfunction (MGD) and blepharitis.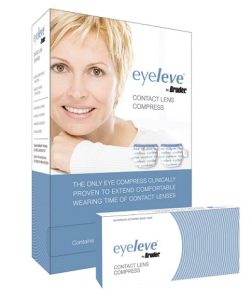 Bruder also offers a compress specifically for contact lens wearers, the Eyeleve Compress. It is the only eye compress clinically proven to extend the comfortable wearing time of contact lenses by up to three hours.
The patented, ergonomic two-pod adjustable design of the Bruder brand eye compresses comfortably fit a variety of facial types and provide targeted heat to the meibomian glands.
The Bruder Moist Heat Eye Compress is not like other eye masks. The mask excels due to its patented MediBeads technology which provides the moist, uniform, extended heat required to effectively liquify oil in the meibomian glands and release eyes' natural hydration.
Traditional compresses which rely on silica gel beads, gel, or grains can dry out and deliver uneven heat, causing hot spots that can be dangerous and reduce product performance whereas the patented MediBeads in the Bruder mask provides clean, uniform heat.
The unique, honeycomb molecular structure encourages complete absorption of water molecules and, when microwaved, releases moist heat in a controlled and consistent manner for eight to 12 minutes.
Independent clinical tests have confirmed the effectiveness of the compress by virtue of its design and its successful transfer of penetrating moist heat. Recent studies show improvement in tear break-up time, tear meniscus height and tear film lipid layer thickness. MediBeads are also infused with silver to repel bacteria and reduce the risk of infection. Importantly, the compress withstands the rigors of daily use and regular washing.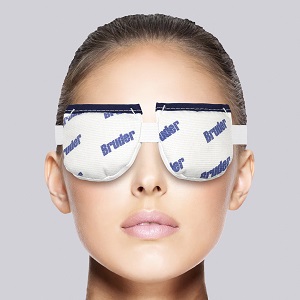 The odourless compress joins Positive Impact's Dry Eye Zone, a best-in-class portfolio of products to help independents with dry eye diagnosis and management.
The Eyeleve Compress for contact lens wearers has additional antibacterial properties to the MediBeads, featuring EyeOnic silver-infused fabric to reduce the risk of infection with repeated use. It also has a specially designed contour stitch in the centre of each pod which improves comfort by relieving pressure on the centre of the cornea.
Nick Atkins, said: "Dry eye and MGD are medical conditions and with evidence-based medicine very much a phrase of the moment, there are peer-reviewed publications to support Bruder's efficacy, something of a rarity in this product sector. We also think the Bruder two-pod design reflects this medical positioning and the patented ergonomic design comfortably fits all facial types, targeting heat to the meibomian glands while avoiding the globe."
Their Sales and Operations Director, Maxine Green, concluded: "We've been keen to bring the Bruder compress range to the UK since 2019 and are delighted to have finally achieved that ambition. It's not the number one eyecare practitioner-recommended compress in the USA without good reason and now all those reasons will benefit dry eye practitioners and dry eye patients here in the UK."