SILMO PREVIEW 2023 for Sea2See 
SEA2SEE exhibits at SILMO Paris 2023,  A large European Optical Show where we follow future fashions for you 

FROM WASTE TO FASHION
'Seastainable' pioneers Sea2see preview new models in their sun and optical ranges, with a broad choice of shapes and designs, inspired by fashion trends and a bold new style.
The iconic decade of the 1970s, known for its super-sized eyewear and sunglasses, represents a prominent influence in this smart collection where more voluminous designs add a very modern feel to the 'seastainable' line.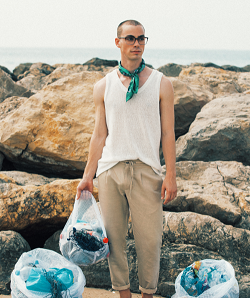 For Sea2see, these 70s influences hold significance as a reminder of the decade that saw a rapid rise in environmentalism and environmental action and the first ever Earth Day on 22nd April, 1970.
"The 1970s was an important decade in the evolution of eyewear fashion, and we are marking that era with some new oversized styles that are still really wearable. Of course, the 1970s was a time that we also reflect on as a turning point for the protection of the planet… this was an era when environmental activities to protect the natural environment found widespread support..and this is of course very much at the heart of everything we do.."

François van den Abeele, Founder & CEO – Sea2see Eyewear
Always true to its 'seastainable' mission and commitment to collecting rubbish from the oceans, this new release for the Paris show represents a clear statement about the evolution of transforming waste into everyday products which are as beautiful and fashion-focused or trend-setting as any other type of eyewear produced from virgin materials, while at the same time offering the eyewear user a chance to play a part in a greater contribution to the preservation of the environment, and particularly our global seas.