Patient gets job with surgeons who saved her sight

 
A Newcastle woman diagnosed with a sight-threatening condition in her 30s was so impressed by the surgeons who saved her vision, she got a job at the clinic.

 
Now working as a healthcare assistant at Newmedica in Newcastle, Tracey Coyle was only 32 when she was diagnosed with cataracts, a condition that can cause blurry vision and lead to blindness if not treated.
She says she first had symptoms when she was in her late 20s, which is extremely rare, because people typically develop cataracts due to age-related changes in the eye that occur after the age of 60.
After Tracey was diagnosed by her optician, she was referred to Newmedica Newcastle for surgery on both eyes.
As part of Cataract Awareness Month, Tracey is keen to warn others of the early signs of the condition.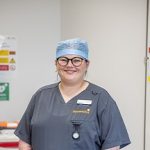 She said: "I'd been having problems with my glasses. I kept thinking they were dirty and was cleaning them all the time, but it made no difference. 
"The opticians said my right eye was quite bad, so the left eye was picking up the slack. I had to stop doing a lot of simple things because I couldn't see what I was doing. 

"I had both cataracts removed at the Newmedica Newcastle clinic. It was a great experience. They have the same person with you from start to finish and they reassure you and tell you what will be happening. 
"Everyone is so friendly and you don't feel rushed. They all have time for you. I loved my time there so much, I now work there as a healthcare assistant – taking patients through in the same way I was taken through when I had my operation. 
"My eyesight is now better than it's ever been. It's really opened up my life. I have my quality of life back. All the things I'd stopped doing I can now do again. Without the operations I would have gone completely blind." 
Tracey, who is going to university in September to train to be a nurse, said that many people are nervous about having an operation on their eye, but she said the surgery is quick, painless and can transform lives. 
She added: "Most of the people I see in my job at the clinic are older and want to see their grandchildren grow up, so I reassure them and talk them through it, and they're so grateful afterwards.
"Everyone who needs the surgery should get it done as soon as possible, because we all want to appreciate life as much as we can. We want to keep our hobbies going and maintain our independence for as long as we can, and to do that we need our sight. 
"If I hadn't had the operations, I wouldn't be able to even think about being a nurse. It'd be too dangerous for the patients because I wouldn't be able to read their charts or give medications. So the surgery has enabled me to train for my dream job and help other people." 
Amanda Bargewell, Operational Director at Newmedica Newcastle, said Tracey's personal experience of cataract surgery has given her an invaluable insight that she can pass on to patients.
She added: "Tracey's story must be unique. I've not heard of a patient getting a job at the place where they had surgery.
"We're very lucky to have her. She's wonderful with our patients – comforting those who are nervous and explaining the procedure in a way that patients find helpful."
Newmedica Newcastle is run by Amanda and a team of four local consultants – Mr Mustafa Kadhim, Mr Gerard Ainsworth, Mr Ayad Shafiq and Mr Nicholas Wride.
The clinic, at Hadrian House in Balliol Business Park, provides cataract surgery and YAG laser treatment for post-operative cataract surgery.