Glaucoma – sight-saving role of community optometry
AN optometrist has spoken about her role in saving the sight of a glaucoma patient and providing ongoing care for them.
A case record: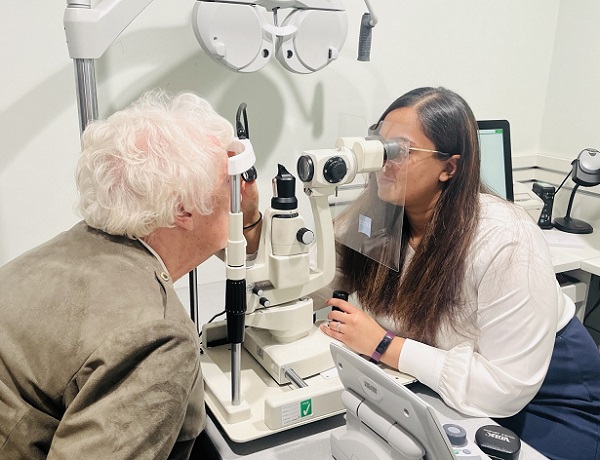 Amy Patel, an optometrist at Specsavers Hemel Hempstead, says that the case highlights the important part that community optometry plays in patient care – as Glaucoma Awareness Week is set to get underway (26 June – 2 July).
'My patient, Linda Condon, was very sensitive to light when she came into our practice. She couldn't even stand the curtains being open at home. She had to just sit in a dark room. It's a condition called photophobia,' says Amy.
'Mrs Condon also had cloudy vision and a painful and red left eye. She thought it was her cataract and felt very worried by these symptoms. It was a bank holiday and nowhere else was open, so I was glad that we were able to offer a service that day.'
It was important to reassure Mrs Condon by carefully explaining the next steps during the consultation in the test room, adds Amy.
'I checked her pressures and found that she was having a closed angle glaucoma attack with pressure readings of 13mmHG in her right eye and 30 mmHG in her left.'
Closed angle glaucoma is caused by the drainage in the eye becoming blocked suddenly. This can result in the pressure inside the eye rising very quickly.
Amy recognised the need to act promptly because of the potential risk of sight loss. 'Mrs Condon needed to go to hospital to bring her pressures down. I explained about the need to refer her as an emergency hospital appointment to be seen the same day.'
The optometrist rang the local hospitals but they were unable to see Mrs Condon. So, Amy called Moorfields Eye Hospital in London and secured an appointment for her. Within a few hours, Mrs Condon was seen in Moorfields eye casualty department and given some drops to relieve the pressure.
'Mrs Condon later explained to me that the consultant said if she hadn't come in within a couple of days, she could have lost her sight.'
Amy's care for her patient didn't stop there as the practice is keeping in touch with Mrs Condon and her husband.
Mrs Condon has had regular follow ups at Moorfields and tweaks to the treatment to control her pressures.
'Once the pressures were under control, Moorfields conducted cataract surgery in the affected eye, as the cataract was quite dense,' adds Amy. 'This can increase the thickness of the lens and cause closed glaucoma attacks again. The pressure in the left eye had reduced to 16mmHg post-surgery.
'Mrs Condon is scheduled have cataract surgery for her other eye in July, as the eye pressures are under control and there are no lasting effects on Mrs Condon's vision.'
Mrs Condon says: 'You saved my sight. You should be branded as sight-savers instead of Specsavers and I cannot thank you enough.
'I want to highlight the excellent service I received from Amy and the expertise that optometrists in Specsavers community practices provide.'
Amy concludes, saying: 'This puts into perspective how important our role in healthcare is. No better gift or reassurance is needed to show what we do makes a difference.'