All in a day's work – making a difference in their community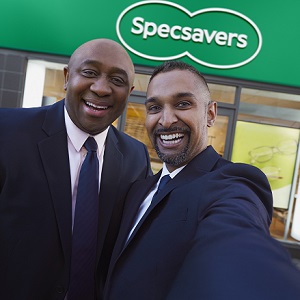 MUKESH Patel and Jude Edwards are modest as the owners of three Specsavers community practices in Northampton. What they do is in all in a day's work for them – but it has positive ripples across their community, with the effects benefiting its very future.
The fact that the practices are locally owned and run is key for the duo.
Being on the ground places them at the heart of their community, giving them an understanding and knowledge of its people and needs. They lead a team that cares for tens of thousands of patients as well as providing employment and careers for dozens of colleagues and are looking at supporting the next generation too.
'For us as local practice owners, it is all about looking after Northampton and the surrounding areas. We want to care for and help our community. It's about clinically showing them that as an optician's we are here for your eye care needs,' say Mukesh and Jude.
'As we as manage our regular appointments for patients, we have ample places for emergency appointments. Our expert optometrists have saved people's sight and lives. We have driven people to hospital, with a first aider in the car, when needed. We will go the extra mile to care for our patients. We keep in touch with people to check that they are okay afterwards. It is our job to do that.'
Going the extra mile
An incredible example of going above and beyond in the care for their community was during the height of the pandemic. They provided an emergency clinic for those who needed it and for key workers. But because of the risk of coming into contact with Covid-19, it meant both moved out of their family homes. Jude was identified as being in a high-risk category but decided to continue his work because of the importance of supporting the community. They won an industry award in recognition of this work.
They are now featuring in a nationwide campaign being launched to highlight how Specsavers practices are owned and run by experts who care for their local communities. Again, they are modest about being part of the campaign.
'We just got approached and they said look you are doing fantastically well. You won the Covid heroes award. We thought why not? People in Northampton can also see who actually owns our practices.'
The pair bring a broad range of expertise to their practices in Northampton, Weston Favell and Weedon Road. Jude is the Optometrist Director while Mukesh is the Retail Director. It means they care for the entire patient journey from consulting room to practice floor. Jude can be found in the consulting room with Mukesh often helping and serving patients alongside his colleagues on the practice floor.
Supporting careers for local people
As well as looking after patients and their families, they also care for their 76 colleagues who work across the three practices. Giving colleagues a rewarding career through a deep commitment to training and development is central to Mukesh and Jude. This approach also empowers their colleagues to provide excellent care to patients.
'The team is so dynamic. We've got 17 different cultures represented, so we can speak 21 different languages. Our colleagues range from 17 to 60. It is the best team. They just love working with people and care about other people. They are so emotionally caring. It's amazing to see.'
The pair add: 'Colleagues we have supported have gone on to own and run their own local Specsavers practices. Another has gone on to open a new practice in Canada. Others are taking additional qualifications. We offer regular mentoring. It is so rewarding seeing our colleagues succeed. When one person does well, we all celebrate together.'
The future
As to the future of their community, the duo is looking at how to support the next generation by showcasing the incredible career that the eye health sector offers. 'We plan to work with local schools, go in and talk about what we do. We want to make them excited about optometry and the career it offers. We want them to choose optometry because they will be the future of Northampton.'