Dry eye relief at the touch of a wand

Positive Impact will now supply the Peep Club range, focused on its propriety Heated Eye Wand Pro as an alternative heat and massage therapy for dry eye.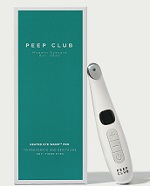 The triple-action Heated Eye Wand Pro can be set between 37°C and 45°C and heats up in 60 seconds. It can be used as a quick, convenient and effective alternative to a warm compress and has been clinically proven to hold heat at the optimum temperature. The wand has been clinically shown to increase Non-Invasive Tear Break-Up Time (NITBUT), Lipid Layer Thickness (LLT) and tear meniscus height.
The wand is endorsed by several eye care practitioners, including consultant ophthalmologist, Mr Simon Levy and optometrist, Dr Clyde Alexander. Practitioners currently recommending the device to their patients are reporting an increase in compliance with at-home dry eye management when using the Heated Eye Wand Pro, compared to traditional warm compresses.
The Heated Eye Wand Pro offers four modes in one device, two to improve comfort for those with dry eyes and two to improve the appearance of fine lines and puffiness around the eyes. The device has won over 10 beauty industry awards and comes with a USB charging cable and a travel case.
Positive Impact's Sales and Operations Director, Maxine Green, said: "We're delighted to be able to work with such a novel and innovative electronic solution to delivering heat with massage to improve signs and symptoms of evaporative dry eye and meibomian gland dysfunction."
The Heated Eye Wand Pro is the latest addition to Positive Impact's Dry Eye Zone, a curated range of unique dry eye products. patients can buy these products at www.dryeyezone.co.uk where, as part of the company's affiliate programme, their local  practice will be compensated for their purchased if advised by them to purchase