Wigston opticians celebrates 25-year milestone
THE team from a Wigston opticians are raising their glasses to celebrate the long service of practice director, Kay Chotai.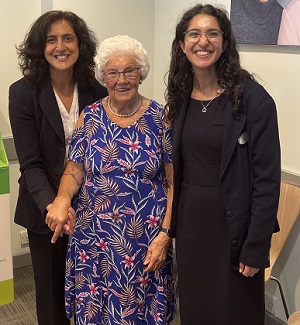 Originally starting as a locum in 1995, Kay was employed as an optometrist at Specsavers Leicester a year later. Fast forward two years and she became practice director there in 1998. In 2007, she transferred to Specsavers Wigston where she has led the team there ever since.
During her time as pratice director, Kay has developed strong working relationships with many customers but one, in particular, stands out. Mrs. Sandra Fletcher has remained loyal to Kay for 25 years, even following her to Wigston all those years ago.
'It's an incredible feeling to have been part of the Specsavers family for 25 years,' says Kay. 'In some ways I can't believe it's been that long, and in others, it feels like yesterday. I've got to know so many customers over the years and to still be seeing Mrs Fletcher after all this time is brilliant. It's been such an amazing journey and I'm so proud to work for a company that values both staff and customers.'
Kay's daughter Ashni, 24, has also joined the team at Specsavers Wigston on Bell Street as a qualified optometrist and has recently become practice manager.
'I remember when Kay was pregnant with her first child, Ashni,' says Mrs Fletcher. 'It is lovely to see them both working alongside each other and it's great to have a catch-up with Kay when I come for my eye examinations.'