NIRVAN JAVAN presents the cinematic editorial: Silent Stalker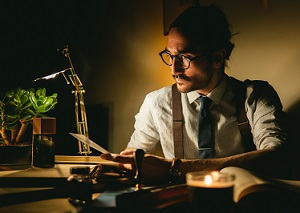 A dark, industrial world
A criminal roams the city and two detectives follow him. They are drawn through industrial plants and office complexes; neon lights and rain their endless companion. Silent Stalker, the new short film by Anthony Thornburg, Irina Fedorova and Chris Reist.
As NIRVAN JAVAN's latest artistic collaboration, it combines cinematic storytelling of a gritty noir narrative, with the relaxed serenity of an editorial. The result is one of the few of its kind, a cinematic editorial.
An artistic collaboration of many worlds
In keeping with NIRVAN JAVAN's leitmotif, Silent Stalker was created as a product of many different worlds. Together from the spheres of illustration, directing, acting and music production, something completely original was created, a film noir in a rainy, neon-soaked metropolis of steel, concrete and glass. NIRVAN JAVAN also finds itself in this cinematic vision. The brand's frames blend seamlessly into the modern world. Be it the TOKYO collection, or LONDON, each model adds an urban elegance to the characters.