Blackfin Pacific | The Classics, reinvented.

The new creative concept embodies the point where the elegance of classic shapes and the modernity of a contemporary minimalist design converge, delivering unique titanium eyewear with timeless style.
Enter Blackfin Pacific, the new series that broadens the brand's eyewear line-up.
The name Pacific calls to mind the image of an ocean that joins two worlds, two cultures and two ways of interpreting the design of 1940s spectacle frames.
This style originated in Japan and, after a sophisticated California upgrade, became iconic around the globe. Blackfin re-reads these classics with a more modern, contemporary eye, creating minimalist frames imbued with timeless elegance.
Also inherent to this new series are the stylistic language and technical skills that distinguish all the brand's products.

Blackfin Pacific is made from a single 3-mm block of titanium to ensure maximum strength and durability.
Despite the extremely technical material, the frame profiles are chamfered, lending a unique visual softness difficult to replicate mechanically. Blackfin Pacific uses no welds, except those needed to mount the nose pad arms, crafted of an extremely flexible material for excellent adaptability, and ensuring an ideal Asian fit. In addition, the patented Swordfish temple tips provide quick, easy adjustment of the temples for perfect wearability   on all types of faces.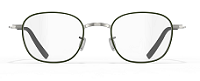 This innovative series is available in three versions that offer a retro-modern interpretation of the iconic shapes of classic Japanese design. Pacific Big Sur is a panto style with pure, timeless lines, while Pacific Sierra has beveled contours and a more contemporary look. Pacific Mojave, instead, is a rounded square with a more classic feel.

The elegant, understated colors are in keeping with the style of the collection, but with the kind of care indicative of Blackfin's superior production skills – the blend of polished and matte colors, enamel accents paired with polished metal, the antiquing technique.
With Blackfin Pacific, product lightness is celebrated in each and every detail of priceless elegance.
BLACKFIN – neomadeinitaly | titanium | eyewear