Suffolk grandma has eyesight saved in time for Christmas
CHRISTMAS-LOVING June Peck is back in the festive spirit after a Felixstowe optician's quick thinking saved her sight.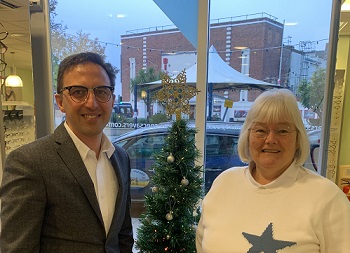 For many years, 76-year-old June from Martlesham Heath has been bringing the Yuletide cheer to her family with hundreds of Santa decorations, but this year's festivities were threatened when her sight began rapidly deteriorating.
Words had been 'jumping around the page' for some time as she read, but then when June lost some of her peripheral vision, she called Specsavers Felixstowe and booked an appointment. It was then that Naeem Kazi, Optometrist Director at the store, suspected she had a detached retina, which if left untreated can permanently damage a person's vision.
June says: 'I had been having regular eye examinations at Specsavers Felixstowe, but one evening I was reading and to my shock the words started to jump about on the page. I then started to notice that a half moon of darkness had appeared on my left eye, a bit like an eclipse, taking away a lot of my peripheral vision.'
After hearing the description of June's vision, Naeem suspected she could be suffering from a detached retina, so said it was imperative that she came in for an examination as quickly as possible.
'The retina is the light-sensitive layer of tissue that lines the back of the eye,' he says. 'It's responsible for receiving light and translating it into electrical signals to send to the brain, where it creates the images, we see.
'After June's examination I discussed my diagnosis with her and husband Brian and explained that I would be making an emergency referral to Ipswich Hospital. The situation was very serious and if the condition was left untreated June could be at risk of losing her sight completely.'
June went to Ipswich Hospital, where they confirmed the suspected detached retina and prepared her for surgery to reattach it.
June adds: 'The surgeon gave me a local anaesthetic, lasered the back of the eye and then put gas in the eye to keep the retina away from the eyeball. Three quarters of an hour later it was fixed.
'The post-op recovery was tough. I had to lie on my face for four hours on the day of the operation and wear an eye patch. But over the next week to 10 days the gas bubble reduced in size, and I started to see the bottom of the eye.
'I'm so grateful to Naeem and all the Specsavers team, and those at the hospital, as their prompt action saved my sight. It also meant a lot to me and my family that Naeem called after I'd had the operation to see how I was.'
Since her operation, June has been busy enjoying all the things she might have missed out on if the detached retina hadn't been spotted in time. She's continuing her love of knitting, gardening, and spending time with her family. She's also spreading the word about the importance of regular eye examinations among members of her Martlesham Ladies' Club.
Naeem adds: 'It's fantastic that June is on the road to recovery and back to enjoying life. A detached retina is a serious condition, and it really highlights why it is so important to see your optician regularly and get your eyes checked as soon as you notice any changes to your vision, whatever your age.'