New lid cleanser harnesses the natural antibacterial power of tea tree oil 
The Eye Doctor Tea Tree Oil Lid Cleanser has been launched by The Body Doctor Ltd to gently clean sensitive eyelids and eyelashes and is recommended for those with dry eye, meibomian gland dysfunction (MGD), blepharitis or demodex.
The cleanser is alcohol and fragrance-free, with a carefully developed formula designed to effectively remove dirt, debris and make-up from the eyelids and the base of the lashes. The solution is also suitable for cleansing the face.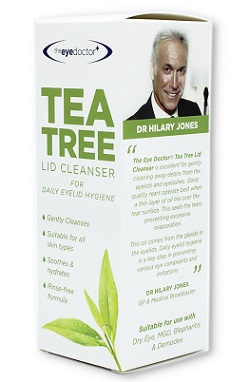 As its name emphasises, the new lid cleanser contains tea tree oil which is used around the world for its natural antibacterial properties. Tea tree oil helps control oil levels on the skin and cleans excess meibum from the eyelids. The cleanser contains coconut oil which also has natural antibacterial properties. The skin-conditioning ingredient is renowned for soothing the skin.
The solution includes micellar water, a gentle and hydrating cleanser and make-up remover, plus argan oil, which has skin-conditioning properties such as a high vitamin E and fatty acid content.
Explaining the motivation for the launch, the Body Doctor's Sales and Marketing Director, Sam Wymer, said: "Our Eye Doctor Biodegradable Tea Tree Oil Lid Wipes are extremely popular, so we wanted to give our customers the exact same effective formula in a 100ml bottle.
"While being used to help soothe common eye conditions such as demodex and blepharitis, our Tea Tree oil Lid Cleanser can also be used to remove make-up and cleanse the face, leaving skin feeling smooth and refreshed."
The Body Doctor's Head of Professional Services, Andrew Price, said: "Lid cleaning is a vital part of MGD treatment and the separate proven effectiveness of micellar water and tea tree oil over the years, and in clinical trials, are now combined in one formulation. This is an excellent alternative to The Body Doctor's Tea Tree Oil Lid Wipes as part of an MGD treatment plan."