Even in winter we can now enjoy the sun! Whether you are planning to do some high altitude activities or are just going out for a city walk, our newly launched SNOW collection provides you with the needed protection for low winter light.
Komono's SNOW collection is specifically designed to optimize your eye sight during bright winter days.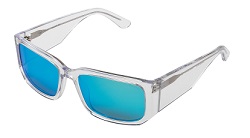 Its ice blue revo coated polarized lenses filter any harmful sun rays and protect against reflections from bright surfaces such as snow or ice. Combined with a crystal clear frame, the glasses have a sharp, clean look that will uplift any winter outfit.
Discover now three of your favorite styles in this special edition: the Bob, Dylan (pictured) and Kiki. Every frame comes with a neoprene cord and quilted pouch, made from recycled materials, to keep your sunglasses safe and warm.