Specsavers clinicians recognised
CLINICIANS from Specsavers were among hundreds of optometrists to be recognised at the College of Optometrists Diploma Ceremony.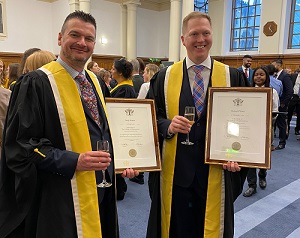 Andy Britton, Director at Specsavers Haverfordwest, and Michael O'Kane, Director at Specsavers' Morningside, and Cameron Toll, were among 17 members of the College to receive a Fellowship by Portfolio. This was in recognition of achievement in the workplace and outstanding contributions to furthering excellence in the practice of optometry.
A group of Specsavers optometrists was also recognised for their Diploma in Therapeutics and Higher Certificates at the event, which was the first since 2019 and took place at Central Hall in Westminster, London.
'It was a real honour to join what is a very small group of professionals who hold the Fellowship,' says Mr Britton, who also collected his Professional Diploma in Glaucoma and Professional Higher Certificate in Glaucoma as well as his Diploma in Independent Prescribing (IP).
'In addition, my higher qualifications allow me to manage many more patients in my practice who historically would have needed to go to hospital – helping support the NHS by relieving pressure on it.'
Mr O'Kane, who also recently collected his MSc in Investigative Ophthalmology and Vision Research, says it was amazing to be recognised by the College.
'It's a genuine honour to be in the same category as amazing clinicians like Dr Frank Eperjesi, Dr Susan Blakeney, or Daniel Hardiman-McCartney MBE. I even got to meet a hero of mine, Professor Bruce Evans, who delivered an amazingly insightful speech,' he says.
Mr O'Kane, already an IP optometrist, says he was inspired to gain further qualifications after being asked to be a Head of Enhanced Optical Services in Scotland for Specsavers.
'I really love that eureka moment I get when I study, and with Specsavers behind me, it has driven me more to continue to learn for my patients' benefit,' adds Mr O'Kane, who has been with Specsavers for 15 years.
The ceremony also saw Jag Singh, Specsavers Clinical Engagement Manager, Gurbeer Singh Sivia, Director Specsavers West Bridgford, Ravi Chawda, Director Specsavers Nottingham, Dilraj Gumbe, Director Specsavers Melton Mowbray, and Amandeep Singh, Lead Optometrist Specsavers Nottingham, among the optometrists collecting a Diploma in Therapeutics – Independent Prescribing.