Mayor of London approves Oriel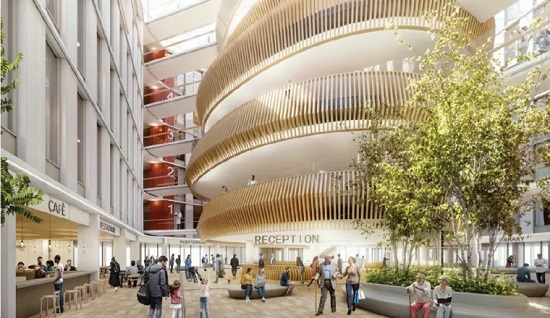 Another exciting milestone has been reached for Oriel – the joint initiative between Moorfields Eye Hospital NHS Foundation Trust, the UCL Institute of Ophthalmology and Moorfields Eye Charity that would see services move to a brand new integrated centre on the site of St Pancras Hospital.
In June last year, Camden Council's planning committee made a resolution to grant planning permission for our new centre and following this, on Monday 9 May, the Mayor of London approved the plans.
But now the New Moorfields eye care centre is to go ahead
The NHS and government have given final approvals to the new Oriel eye care, research and education centre so that construction can start on the old St Pancras Hospital site in London.
This brings us even closer to moving existing services at City Road and Bath Street into a new purpose-built centre on the two-acre site in the borough's Knowledge Quarter, which is already home to the UCL Bloomsbury campus and the Crick Institute.
This new centre would deliver the integration and innovative conditions we need to continue our ground-breaking work efficiently and in partnership, enabling the speedier delivery of new treatments and therapies for patients.
Martin Kuper, Moorfields Eye Hospital chief executive, said: "I am delighted another important step forward has been made in our plans for Oriel. This project has collaboration at the very heart of it and we are looking forward to continuing to work closely with our staff, patients and partners to build a new centre that will be a beacon of excellence for patient-focused eye care."
Professor Alan Thompson, Dean of the UCL Faculty of Brain Sciences and Pro-Provost London, said: "As the London population grows and ages, there is a greater and more multifaceted demand for eye care. This decision by the Mayor is a crucial step forward for an exciting project that will bring major academic and clinical benefits for people living with sight loss, not only in London, but also nationally and internationally."
Robert Dufton, Chief executive, Moorfields Eye Charity, said: "We are delighted to have reached another major milestone with the mayor's planning decision giving the green light to Oriel – the world-leading centre for advancing eye health. This integrated facility bringing closer collaboration between patient care, research and training will speed up the delivery of treatments for countless patients with sight loss. Philanthropy is key to achieving this ambitious project and we are grateful to the generous donors who are helping to secure the future of eye health on a global scale."