LOOK KOMBI 10880 series: Lightness and Strength join forces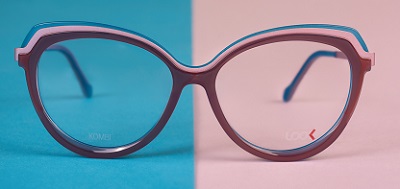 Combination is the key concept in the new LOOK KOMBI 10880 series frames by LOOK–made in Italia. The front is produced through the mechanical interlocking of cellulose acetate and Xinox, while the design is a stylistic expression of modern Renaissance inspiration inherent to the NEW RINASCIMENTO creative process.
The five women's styles, designed for the Adult Premium segment, put on a bold front, thanks to the layering of two materials brought to life by alternating contrasting colors. Whether transparent or solid-color, the acetate binds with the exclusive Xinox steel, taking on unique shades of color, even in the sparkle-effect finishes. The result is a series of incredibly lightweight, sophisticated, contemporary frames enlivened by novel color pairings.
Cutting-edge research and avant-garde techniques once again perform as expected, taking full advantage of the plasticity and flexibility of the two materials that fit together seamlessly without the use of any adhesive or chemical substances and with the utmost respect for the visual well-being of the wearer.
All LOOK KOMBI frames are traceable because they are developed, designed and produced entirely in Italy by LOOK-made in Italia.